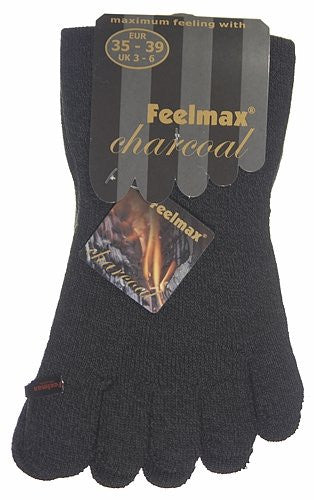 Feelmax Charcoal Toe Socks Ladies Shoe Size 8.5 - 11 and Men's Shoe Size 7 - 9.5
---
Feelmax Charcoal Toe Socks Fits Ladies Shoe Size 8.5 - 11 and Men's Shoe Size 7 - 9.5 Imported.
Charcoal is well known for its antibacterial properties. Now Feelmax have utilized this special quality in their new innovative sock that will benefit all those who wish their feet to remain especially fresh all day.
The inner layer of the sock is made of 100 % charcoal yarn and absorbent cotton yarn, which feels very comfortable against the skin. Soluble polyester have been treated with charcoal by a special process, that reduce bacterial and fungi growth in the fiber.
Made of Charcoal yarn.

Forms to foot and seamless for a comfortable exact fit

Hygienic - Seamless to prevent blisters and keeps feet dry to prevent bacteria

Crew length sock (Below the Calf)
---
Share this Product
---
More from this collection