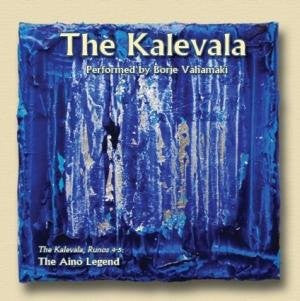 Kalevala Audio Book Runos 4 - 9 (2 CD Set)
---
Elias Lönnrot ~ Börje Vähämäki
The second audio book of the Kalevala, performing runos 4-9, offers the Aino Legend, Joukahainen's Revenge, and Väinämöinen's Adventures.
Kalevala, Audio book 2, contains the following tracks:
Disc 1:
1. Runo 3: The Contention, Ending lines 477-580
2. Runo 4: Aino
3. Runo 5: Aino Caught and Lost
4. Runo 6: Joukahainen's Revenge
5. Runo 7: Väinämönen's Promise
Disc 2:
1. Runo 8: Väinämöinen's Wound
2. Runo 9: The Healing of Vänämöinen
3. Runo 4, Lines 1-62 Recited & Sung in Finnish
Total time: 70:58 + 49:18 = 120:16
Compiled and edited by Elias Lönnrot, The Kalevala, the national epic of Finland was published in 1835 in a version now known as The Old Kalevala. Its final, standard version appeared in 1849. The Kalevala abounds with ancient Finnish myths, exudes a shamanistic world view, and reflects a love of adventure. The Kalevala is rich in traditions, charms, and "deep origins". It is rightfully considered one of the world's great epics.
Translated by Eino Friberg and performed by Börje Vähämäki, these performances of Kalevala runos recall their origins as oral literature.
"Not for you or anyone else
Will I wear this crosslet here
Or tie my hair in silken ribbons."
Runo 4: 22–24
Börje Vähämäki, Professor of Finnish Studies at the University of Toronto, adds a Finnish touch by way of a slight Finnish lilt in his English delivery.
Dr. Borje Vahamaki's lecture on the Kalevala was simply outstanding. I was simply blown away by the passion and knowledge Dr. Vahamaki has for the literature. I believe it is people like Dr. Vahamaki who will help ensure that the Kalevala continues to live on thoughout the world."
Anonymous evaluation of lecture/performance at Thundar Bay, Ontario, Canada
ISBN: 978-0-9783488-6-1


---
Share this Product
---
More from this collection