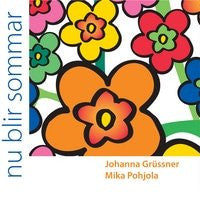 Nu Blir Sommar - Swedish Traditional Songs
---
Swedish traditional songs interpreted in an authentic style by the satin voice of Johanna Grüssner from the Åland islands.
Nu blir sommar ("Summer Comes") contains some of the most popular and beautiful Swedish songs. Originally performed by the troubadour composers themselves, here the songs have been transformed into intimate vocal-piano renditions. While the arrangements contain subtle jazz skills, they mostly portray the infinite possibilities of the beautiful Scandinavian melodies and the tradition of story-telling.
100 YEARS OF MAYFLOWER CHARITY
The idea of selling little Mayflower pins to raise money for charity was born in Sweden in 1907. The Mayflower pins were sold in Finland for the first time in 1908 to support the Mjölkdroppen (Drop of Milk) association, the predecessor of today's maternity and child health clinics.
"Nu blir sommar" is a tribute to a little flower with a great thought.
JOHANNA GRÜSSNER – VOICE
Johanna Grüssner has recorded several CDs, which you can listen to at www.cdbaby.com/johanna . Here she interprets a collection of the most beautiful Scandinavian troubadour classics.
MIKA POHJOLA – PIANO
Composer and pianist Mika Pohjola has lived in New York City since 1995. He has been part of the vibrant downtown jazz scene, explored natural and synthetic recording environments and worked as a lecturer in Europe and the United States. In addition to his New York home, he often goes to Scandinavia to lead bands and teach. Mika has released over a dozen CDs as composer, pianist and producer, and toured Europe, the United States, Japan and South America.
---
Share this Product
---
More from this collection